Peace & Salam to all
Like many of us who went to a traditional Madrasah and have somehow forgotten much of what we learnt, Ramadan is the perfect time to brush up on our knowledge.

A Child's Gift is one of the best books not only for the young but also perfect for us adults to refresh our very basic or essential Prayers but with the added benefit of the English translation included.

Beautifully and Clearly presented with clear Arabic Text, this will be an invaluable help and companion book
At only £2.00 you simply can't go wrong.

A Child's Gift
Dua'as, Ahadeeth & Surahs, Colour Illustrations
By Moulana Khalid Ibrahim / Moulana Adam Esmail
Paperback 67 Pages
Publisher : Quwwatul Islam Publications
It is a book for Madrasah children, covering a wide range of authentic du'as, 40 hadiths and surahs, How to Perform Daily & Janaza Salah (according to Hanafi Madhab) and Much More.
Every attempt has been made to ensure that the contents of this book are presented in accordance to the relevant aged children. References are given for all Du'as and Ahadith .
The respected authors have accomplished a very important task of compiling a creative syllabus, fully referenced and adopted to suit the needs of English speaking children.
(Mufti) Shabbir Ahmed [Lecturer of Hadith]
I found the content to be very appropriate and concise, as well as covering wide range of topics which are essential for every Muslim child.
(Moulana) Saeed Ahmed Patel [Principal, Jamia Talimul Islam]
Books on Basic Islamic Fiqh
Hanafi

Essential Islamic Knowledge : A translation of Mala Budda Minhu
By Qadi Thana Ullah Panipati
Publisher : UK Islamic Academy (UKIA)
The book gives an explanation on Aqidah, Taharah, Salah, Zakah, Sawm and hajj. In addition, some basic aspects on what is prohibited and disliked, together with some instructions on elements of social conduct.

Hanafi fiqh is followed, however there are occasional references to other schools of fiqh.
The main feature of this book is that it deals only with that which is important, with those issues which the average Muslim person faces daily. As such it is an invaluable guide to the basic Islamic tenets for the common Muslim and for young people making their entry into adulthood.
Shafi'i

The Shorter Abridgment: An English Translation of al-Mukhtasar al-Saghir
By 'Abd Allah b. 'Abd al-Rahman BaFadl
Translator: Abu Malik al-Azhari
Publisher : Mihrab Publishing
Basic and Easy Shafi'i Fiqh Covering: Purification, Prayer, Funerals, Zakah, Fasting, Business & Marriage.
The translation presented side-by-side with the Arabic original make this publication an excellent introductory level textbook in the subject of fiqh for the individual, masjid study group, or Qur'an school.
Maliki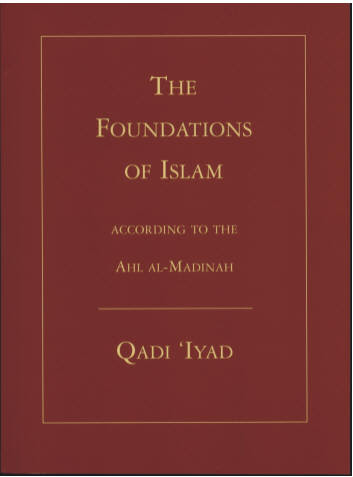 The Foundations of Islam
By Qadi 'Iyad
Pulbisher : Madinah Press
This book is a clear-cut manual laid out in five sections corresponding to the five pillars, and marked out with the simplicity of a basic technical manual.
For each pillar the Fard, Sunna, Supererogatory, Liked, Disliked and Prohibited are concisely listed, with special page markings for easy reference and study.
This book is useful for new Muslims but also for refreshing the knowledge of the basics of even the most learned scholars.
Hanbali



The Fiqh of Worship: Commentary on 'Umdat al-Fiqh (Reliable Source of Fiqh)
By Imam ibn Qudama al-Maqdisi
Publisher : International Islamic Publishing House (IIPH)
A translation of and commentary on Ibn Qudamah's highly esteemed 'Umdat al-Fiqh, an abridged book of fiqh (Islamic jurisprudence) according to the Hanbali school.
Dr. Hatem al-Haj has translated and elaborated on it, noting the opinions of other schools of Islamic jurisprudence, thus giving the English-speaking student a broader base for his or her understanding of fiqh.
The author has made the difficult subject of fiqh easier to learn and more comprehensible by using visual aids and a unique symbol system.
This book is a must-have for the serious student of knowledge.
Hanbali / Salafi

Minhaj Al-Salikin : Path of the Wayfarer
By Shaykh Abd ar-Rahman bin Nasir as-Sadi
Publisher: The Islamic Literary Foundation
The book was written in a simplified manner, choosing only the opinions that he deemed to be the strongest along with their evidences, irrespective of the School of Thought it belonged to. It is an excellent book for a beginner as well as those who are more advanced in the subject. The books works as a guide for those who wish to study the subject matter.

The Concise Presentation Of The Fiqh Of The Sunnah And The Noble Book
By Dr Abdul Azeem Badawi
Publisher : International Islamic Publishing House (IIPH)
The author has restricted his foundations for fiqh to the Quran and the authentic hadith of the Prophet, painstakingly avoiding any of the weak and rejected hadith .
Shaikh Abdul Adheem ibn Badawi has complied with briefness in wording the evidences that can satisfy the truth seeker.
General Fiqh

Fiqh-us-Sunnah
By As-Sayyid Sabiq
Publisher : American Trust Publications (ATP), USA
Islamic Legal Rulings Concerning the Sayings and Actions of the Prophet (pbuh) Book of Worship (5 volumes in 1 Book).
---
To Perfect Our Fast Remember The Following:-
See not what displeases Allah

Speak no evil

Keeping all other limbs and organs away from sin:

Avoid overeating after Iftar